are you ready for A BETTER wifi SOLUTION?
WHY PRE-WIRE WHEN you can "pre-wifi"?
wall to wall wifi FOR $1.00 / PSF
We make life easier for our home builders in 3 key ways:
Simple pricing, quick scheduling and network design process

$1.00 / PSF flat-rate pricing includes our complete, end-to-end solution

We support your customer both during and after move-in and for the first year they are in the home (as part of the $1.00 PSF)
We are proud to partner with top-tier custom home builders and strive to be a core part of your team. We are different in a few key ways:
We always start with a network design
We deliver an end-to-end solution, saving your homeowner the headache of setup and internet provider troubleshooting
When your homeowner takes possession of the home, we provide network "turn up" support
We help ensure all homeowner devices are able to connect after move-in
We provide ongoing, monthly support, and remote network management for your homeowner
We offer parental controls solutions for families
We offer high-security plans for homeowners where network security is a priority
We love working with quality home builders to remove stress and take WiFi networking to the next level. Let us know how we can help you and your homeowners!
WHAT'S WRONG WITH the CURRENT PRE-WIRE PROCESS?
It all begins with a thorough review of your site, building materials, constraints, nearby networks, and the layout of the home or office . We also want to understand the likely high traffic areas.
We take a data-driven approach to network design. Once we have the details from the site assessment then we can begin mapping out the network design for your space to ensure optimum coverage throughout.​
Our 10+ years of experience helps ensure you get a professional and efficient installation. We have dealt with almost every unforeseen issue possible and are extremely cautious when on site.​
After the installation is complete, we have our quality team review and test the network to ensure the goals that were set in the network design have been met or exceeded. We also test all devices that are present to ensure proper connectivity.​
One of the most valuable parts of our offering is our annual maintenance and network monitoring plan. We are there, behind the scenes watching over your network, doing hardware and software updates, and ensuring everything is working properly.​
I would absolutely recommend these guys any day of the week! Fast, fair, honest, intelligent and friendly."​
"My Netflix stops and starts."
"MY EMPLOYEES ALWAYS COMPLAIn ABOUT WIFI."
"MY SPOTIFY IS SPOTTY."
"WHEN I MOVE AROUND THE HOUSE, MY WIFI DROPS."
"I'M TIRED OF DO-IT-YOURSELF SOLUTIONS!"
"I'M ALWAYS REBOOTING ROUTERS. I HATE MY WIFI!"
YOUR CUSTOMERS ARE TIRED OF WIFI PROBLEMS!
BUT IS BAD WIFI YOUR PROBLEM?
PROFESSIONAL-GRADE WIFI IS NO LONGER AN OPTIONAL ITEM FOR A CUSTOM HOME. IT IS NOW CONSIDERED CORE INFRASTRUCTURE, JUST LIKE PLUMBING OR HVAC.
Most pre-wires don't start with a proper network design.
Most pre-wires don't include access point planning and balancing.
Most pre-wires don't deliver enough data connections for over-the-top content delivery like Netflix or Amazon 4k.
Current pre-wire methodology puts the burden of "finishing" the network on the homeowner and audio-visual contractor.
BANDERA NETWORKS REPLACES PRE-WIRE with PRE-WIFI.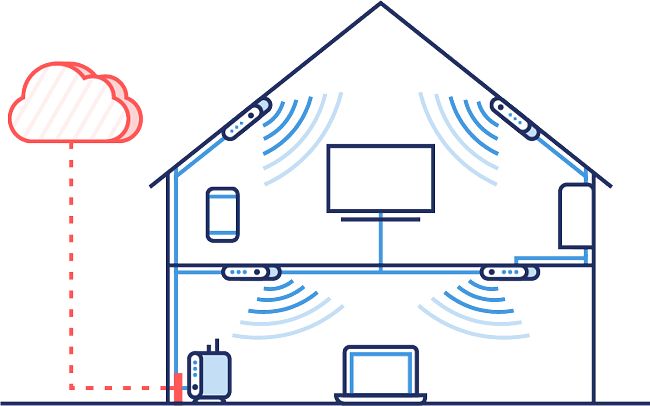 "bandera was Very quick and responsive. They definitely know their stuff when it comes to networking. Extremely helpful and didn't try to sell us things we didn't need."